Stacking the shelves is a weekly meme hosted by Tynga's Reviews. It's basically a way in which we get to show off the lovely new goodies we got over the past week/month however you decide to do it.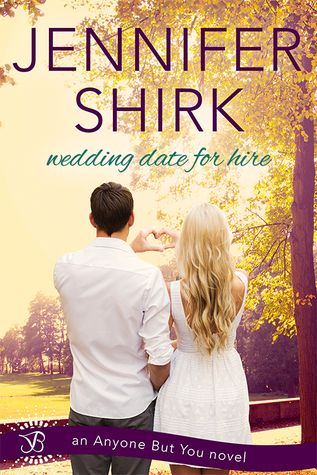 Wedding Date for Hire (Anyone But You #2) by Jennifer Shirk
Thanks to Entangled Publishing for this ARC! :)
So first, before I get to the books, my lovely friend
Tonya
from
Lilybloombooks
and
After Hours at Lilybloombooks
, has been making these gorgeous beaded bookmarks and opened up an Etsy shop,
BeadsMarktheSpot
. You can get as detailed as you want with size and color and charms and types of beads used. For me I didn't have a particular picture in mind I just knew the colors I wanted and the charms and then I told her to go nuts and get creative and I love what she's done. I couldn't have planned them out better on my own! (I'll take a closer picture of one so you all can see better). Thanks Tonya I'm loving my bookmarks!! :D
So a couple weeks ago I used one of my audible credits on the first book in
The Heroes of Olympus
series and then realized that series takes place after this one. Now, I had read
The Lightening Thief
before a loooong time ago and really liked it but for whatever reason hadn't continued with the series yet. I'm really looking forward to starting these up in a couple weeks!
I caved to the hype!
I'm trying to bring more Sci-Fi, Fantasy and Paranormal into my life. This looks real good!
One of the booktubers I like to watch,
jessethereader
, had SO much praise for this graphic novel. Even saying it was his favorite graphic novel of 2015. The premise sounded so freaking intriguing I had to get my hands on it!!
See? These bookmarks are just gorgeous!
Well that's it for my little haul this week!
What have you added to YOUR shelves lately?
Have a great week everyone!! :)