Stacking the shelves is a weekly meme hosted by Tynga's Reviews. It's basically a way in which we get to show off the lovely new goodies we got over the past week/month however you decide to do it.
Chasing Mr. Wrong (Chasing Love #4) by Joya Ryan
Slow Ride by Cathryn Fox
Her Unexpected Detour by Kyra Jacobs
It's...obviously not my Weekly Haul then...
Duh.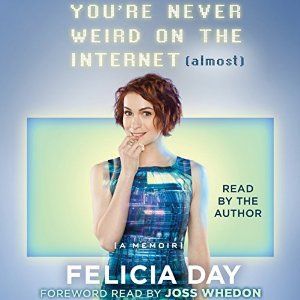 You're Never Weird on the Internet (Almost) by Felicia Day
I have been such a huge fan of Felicia Day for a long time now. She's my nerdy girl spirit animal. The Guild was where I truly fell in love with her quirkiness but then there's also the YouTube channel she co-created called Geek & Sundry where she has a weekly vlog and also hilariously plays video games with her brother Ryon. She was one of my favorite characters on Supernatural [Spoiler highlight to read]
well at least until the jerkfaces killed her off! I'm still bitter about that.
Anyway, I was so glad I had some unspent credits on Audible because I really want to get this one on audiobook. Plus Joss freaking Whedon reads the forward? Are you for serious?! JOSS WHEDON! Happy, happy!
So that's me for this week.
Hope everyone has a great week :D
What did you add to YOUR shelves?