Swoon Thursday is a weekly meme hosted by
YA Bound.
From the book we're currently reading or one we've just finished we're supposed to show you "
what made me SWOON. What got my heart pounding, my skin tingling, and my stomach fluttering."
This week's pick is...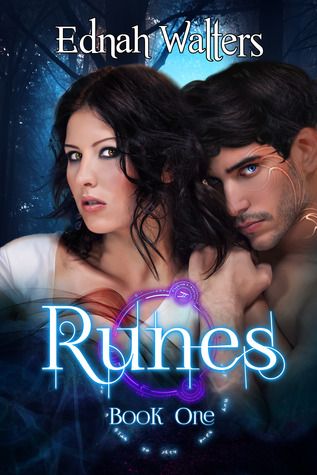 Runes (Runes #1) by Ednah Walters
Expected publication: May 20th 2013
(Sorry got it from NetGalley..I know, I know a swoon that's not even out yet. I'm frickin' evil!)
"
I s
hould go back inside," I said weakly, though I didn't make a move to leave. "Eirik's probably looking for me."
"Don't go," he said softly, walking around the Harley. He stood behind me, bringing his intoxicating warmth. "I didn't bring you in here to talk about my work."
"Why then?"
"I wanted us to be alone."
I released a shaky breath. "I saw you earlier."
"It wasn't enough. Call me greedy, but I need more." He ran his knuckles up and down my arm. I shivered. His hands rested on my hips then he lowered his head and pressed his face into my hair. "I didn't expect you when I came here, Freckles. This was supposed to be a routine job, yet now it's much more."
I leaned against him, wanting to ease the pain in his voice even though I didn't know how. "But I'm with Eirik."
"He's not right for you." His voice was low, intense.
"I've known him all my life. He understands me."
"Does he make you tremble with a touch?" He ran his fingers up my bare arm, his touch feather light, yet it lit a fire inside me. I closed my eyes, my entire body trembling. He lifted hair from my neck, lowered his head, and pressed a kiss on my exposed neck. Warmth pulsed through me. "Is he the first person you think about when you wake up in the morning and the last one you think about before you fall asleep?"
***
Ahhhhh! Do you realize how hard it was to not finish the rest of this scene for you guys? I seriously just deleted about that same amount so I wouldn't put too much out there! And this still feels like a lot...ehh I don't care there's plenty more left in the book! There was one scene I reeeeeeally wanted to put in here but it would in a small way give away some of his...abilities so I opted for this one instead ;) Oh Torin. *Sigh*
So who stole your breath away this week? :)