Title/Series:
Walking Disaster | Beautiful #2
Author:
Jamie McGuire
Publisher:
Simon & Schuster
Expected Publication:
April 16th 2013
Format
: eBook | Pages: 448
Genre
: YA/NA, Contemporary, Romance, Realistic Fiction
Source:
NetGalley
in

exchange for an honest review
★

★

★★★
(5/5) Stars!!!
Jamie McGuire | Goodreads | Facebook | Twitter
How much is too much to love?
Travis Maddox learned two things from his mother before she died: Love hard. Fight harder.
In Walking Disaster, the life of Travis is full of fast women, underground gambling, and violence. Just when he thought he was invincible, Abby Abernathy brings him to his knees.
Every story has two sides. In Jamie McGuire's New York Times bestseller Beautiful Disaster Abby had her say. Now it's time to see the story through Travis's eyes.
An entire book...inside the head of Travis Maddox?
Please excuse my uncontrollable squeals of delight!!!
And then I started reading the freaking
prologue
people...Just the prologue!!!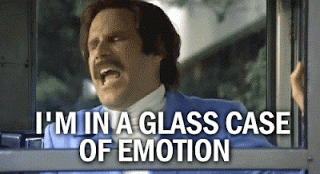 Sigh... this is going to be a long book. Do I have enough tissues?
Before I say anything else I want to give some love and appreciation to the cover. I think it's absolutely breathtaking. The vivid colors, and even though it's just a shoulder and a tat and still it's like...wow. Truly one of my favorite book covers of all time.
In some ways I thought that maybe this book would be easier to read. I mean it's just a different view point of
Beautiful Disaster
right? So I know everything that's coming. Well, okay, actually I know most of what's coming. Besides it's Travis so, pure heaven right?
In many ways though this is also what makes it the hardest one to read.
And
all those things that tore me apart based on Abby's interpretation
of what was happening from her POV are now magnified by a million. Because now I have every agonizing detail and emotion from Travis himself and as if I wasn't shattered enough already, having just finished Beautiful Disaster before picking this one up and reading it, I am now even more broken than when I started. I honestly don't think I cried this much in the other one. (Still.. Worth. Every. Second.)
But it wasn't just tears and heartache. I was very excited hoping to have more of the Maddox clan in this one; Jim, Trent, Taylor, Tyler and Thomas. I think the rest of the Maddox brothers should each get their own book. They were so funny and I love the family dynamic they have. And luckily we got to see a tiny bit more of that in this book.
Plus we get to see all of his high points. Experience his absolute joy and experience the adoration he feels for his Pigeon. It just made me even more so wish for every one of us at some point in our lives, to have someone have just as much faith, love and devotion as Travis does in Abby.
This was just as good as book one, even a bit more so and I can't wait to get my hands on a physical copy once it's out there! If you liked book one and are a "Mad Dog" fan you're gonna love this book. And if you haven't read either...Why are you still here reading this?? Go now!